Our top SEO tips for smarter back-to-school marketing
It's easy to find very basic SEO tips & tricks that can help you survive the search engine, but battling the rankings during high volume seasons like back-to-school is tough. Here is some research on the hottest search engine optimization trends to look out for during the 2015 back-to-school season.
Every end is a new beginning, and this adage has never been truer than when it comes to back-to-school (B2S) shopping. Believe it or not, the end of the school year is actually when B2S shopping starts. So, if you think this post is getting ahead of itself, think again.
Searches for 'Back to School'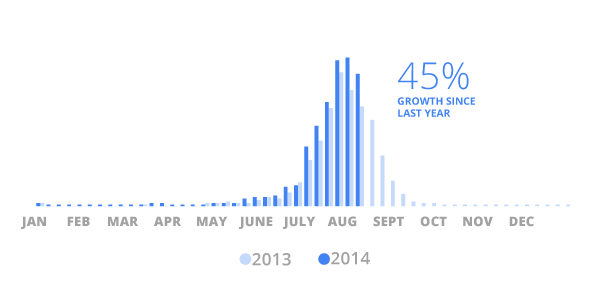 Reports from Google indicate that B2S shopping starts as early as May. In fact, B2S shopping ranks as the year's second biggest retail event. Searches associated with this phenomenon are higher than ever, and have increased 45% year over year.
So why the rush?
For many students, this onslaught of early advertising can seem cruel. The mid-summer marketing wiles of Staples and Walmart have been credited with part of this push, as is the ever-growing ecumenical presence of the Internet. Unlike in the pre-web world, where people would often stock-up in-store, the Internet affords shoppers leisure to by at their convenience. As Deloitte Vice Chairman Alison Paul notes,
"24/7 online convenience allows parents—and students—to shop any time, not just during the traditional mid-to-late-summer back-to-school period. Consumers are more precise about what they buy and may no longer feel the need to stock up as they did in the days before the internet."
B2S shoppers take this convenience to the next level, with 40% of related searches being done using smartphones. This number is up 25% from 2014. 
Worlds Collide: When B2S meets Holiday Shopping
With B2S shopping extending into the autumn, it's crossing paths with keen holiday shoppers. Get this: according to the intel provided by a Google consumer survey conducted in July, 15% of people will have begun holiday shopping in the summer, with 5% more starting before labour day. This means marketers can see what their potential customers might be looking for earlier, and can therefore refine their efforts and really nail the message with their promotions and advertising messaging.
The Big Guns
If you're looking to knock your B2S efforts out of the park, follow the lead of savvy marketers and focus on college-bound kids. The combined buying power of these students and their parents is the driving force in B2S spending – and it's growing. Reports show it has increased 10% from last year alone. These excited folks are making more significant purchases. Not just pens and pencils, but top- of-the-line laptops, furniture and furnishings. We're talking things that they may carry with them forever – or at least a long time.
'Dorm Haul' video uploads to YouTube by Month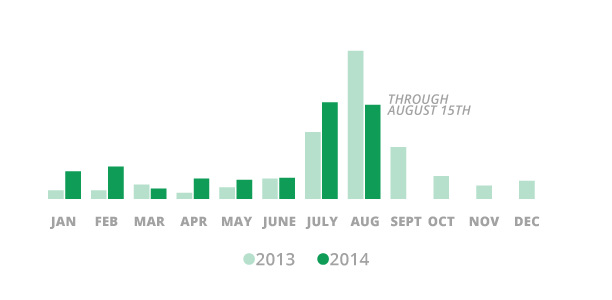 This presents an excellent opportunity to build loyal customers for life. Most of this college contingent is turning to YouTube to find out what to bring. They're searching terms like 'back to school haul' (which is up 70% this year) and 'dorm hauls' which increases two-fold in the first 10 days in August year over year. 'Dorm tour' is also a top YouTube search that's trending upwards. This query presents some intriguing insights into the interests of your customer by giving you a sneak peek into what they have in their dorm rooms. Think brand preferences, extra-circular interests, and even snacking habits. It's all there, ripe for the plucking and implementing into your next marketing campaign.
In fact, brands have started their own videos targeted at helping college students adjust to college life, like DIYs for easy and affordable dorm designs. In fact, searches for 'dorm decor' on Google are up 37% year after year. In general, Google's witnessed a 30% increase of dorm-related queries for topics like Pinterest, Dormify, Buzzfeed, Apartment Therapy, Seventeen and HGTV.
 Convenience is Key for the College Kids
"College students are 30X more likely to rank their phone as more favoured than their TVs."
It should probably come as no surprise that the college crowd is doing a lot of browsing and buying on their smartphones. This activity is up 32%. Interestingly, a Google Consumer Survey reveals that college students are 30x more likely to rank their phone as more favoured than their TVs. Not only does the phone save precious space in their dorm rooms, but they can do all their browsing, gaming, buying and watching on these pocket-sized devices. The desire to save space is also why the search for wireless chargers for smartphones and laptops are on the rise (72% up since last June and 14% year over year). According to a study by Deloittle, smartphones rank as the most popular electronic device among post-secondary students. It's important to note that Google Data reveals that people searching for the term 'dorm' are likewise searching the term 'mobile' far more than 'tablet' or 'computer'. This marks a major shift from a few years ago, and is further proof that if you're not on board with the mobile movement, your brand will suffer.
Bringing Two Worlds Together
Since B2S and the holiday season are bleeding into one another, you can tailor your marketing efforts to capitalize on both seasons. Here are some ways to do this:
Don't get caught up in the lazy days of summer – maintain strong, focused campaigns throughout this key time.
Keep mobile in the front of your mind. Remember, the mobile movement is strong and cannot be ignored.
Tune into YouTube and see what's piquing the interests of your market.
Market to the DIYer. Let them know how your product could be used in original, creative, affordable ways.
Readjust your holiday campaigns based on your findings from the B2S season.
Promotions and sales should reflect the students (and parents) need to save time, money and space.
Even if you don't think your brand is immediately relevant to B2Sers, understand that almost everything is relevant to just about anyone. You just have to find your angle. Of course this can take some truly creative thinking, but that's what all good marketing is: creative thinking that connects people and brands.